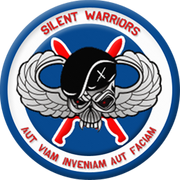 Silent Warriors
We are a multinational clan founded in February 2009 and since then have grown to include more than 70 members from all around the world. The clan was founded on the ideals of teamwork, community and most of all, having fun! Since its inception, our squad has always had the primary goal of running servers to suit the needs of the players, for the players, and to regulate them accordingly. We currently operate two highly popular Arma 2 Free public servers and a private Arma 2: Combined Ops server for members only, which runs with the ACE and ACRE mods among others, as well as an Arma 2: Operation Arrowhead Wasteland Server. We have a dedicated staff of server administrators who work to ensure that our public servers are as enjoyable and trouble free as possible, as well as a team of mission editors who ensure that the missions running on our servers provide the best gaming experience possible.

Silent Warriors regularly runs organised mission nights on a weekly or bi-weekly basis, often using a range of mods to enhance our gaming experience. We also run mission nights on Arma 2 Free to allow members of the public to get a taste of the teamwork and organisation that cannot always be found on a public server. Our team of dedicated mission designers and editors provides us with high quality, custom made missions to play both in mission nights and on our dedicated servers. Silent Warriors have run missions on various maps including Fallujah, Thirsk, Sangin and Isla Duala, as well as the standard Arma 2 maps. The types of missions we play are highly varied, from escape and evasion to special operations and combined arms operations, ensuring that there is always the opportunity to try something new and face new challenges in the game.

Here at Silent Warriors we are committed to helping both ourselves and others improve our gaming experience through training in the various skills involved with playing the game. Our team of experienced training instructors are able to provide excellent insight and guidance to both new players and also the more experienced in order to enhance our gameplay experience.
Quick References
| | |
| --- | --- |
| Map Reading & Navigation | |
| Squad Roles Guide | |
| Squad Formations | |
| Guides | |
| Silent Warriors | |